ENSURE YOUR KID GETS MORE OUT OF THE GAME
a Central Ohio competitive soccer club for kids ages 4-23
and the parents who cart them everywhere


Develop
Skills

REALIZE FULL
POTENTIAL

BECOME A BETTER
ATHLETE
IS YOUR KID'S CURRENT SOCCER CLUB CHALLENGING ENOUGH
It's fun watching your kid dominate the field, but when they're not growing as a soccer player they:​
Get bored easily​
Stop trying hard​
No longer have fun​
Lose their love of the game​
UNLOCK YOUR CHILD'S FULL POTENTIAL
Your kid loves the game of soccer. They're motivated. You see them improving. But when you watch them play, you wonder if there's still untapped potential.
PLAYER DEVELOPMENT PATHWAY
We know every child is unique. That's why we created our Player Development Pathway. It's designed to meet their age, skills and abilities with the right program to help them mentally and physically stay in the game.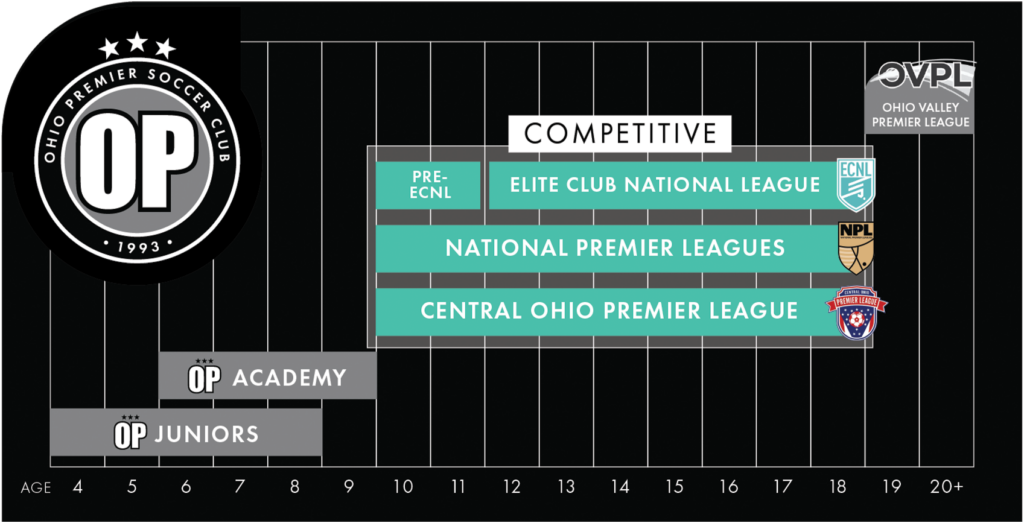 Click on a pathway program below for specific details about that program.
NO PARENT WANTS TO SEE THEIR CHILD LOSE INTEREST IN AN ACTIVITY THEY LOVE
We're advocates for their experience—and yours.

Here's how to get plugged in at Ohio Premier Soccer Club
Select a program, answer a few questions within the register program and your child will be placed in a tryout group.
Your child gets coached through unique drills and game set ups that put their skills on display.
Watch your child discover their full potential and increase their love of the game.
SOCCER IS ULTIMATELY MORE THAN JUST A GAME
This game in many ways is a microcosm for life.